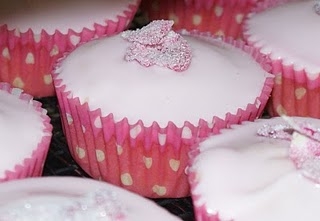 Beautiful rose flavoured fairycakes hiding a Turkish delight jewel and topped with purely gorgeous crystallised rose petals.
These cakes were inspired by a lovely meal out in London with friends at a Turkish Restaurant. The rosewater you can get in most baking sections in the larger supermarkets but I got this bargain big bottle from the Polish section in Tescos for less than £1. The cost of the Turkish delight was a different matter but we'll say no more about that!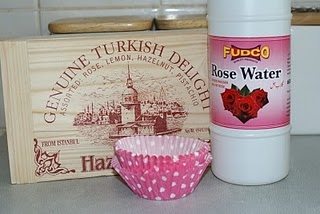 Ingredients:
Cakes
150g butter
150g sugar
100g self raising flour
50g plain flour
3 eggs
2 tbsp rose water
6 large pieces of rose Turkish delight
Icing
250g icing sugar, sifted
4 tbsp rose water
Crystallised petals
rose petals
egg white
caster sugar
Makes 12.
Prepare the rose petals first. You will need to do these the day before you want to use them.
Collect some pretty rose petals from the garden (or indeed a friends garden if you're not too green fingered like me). I used some pretty deep pink miniature roses from my Mum's garden.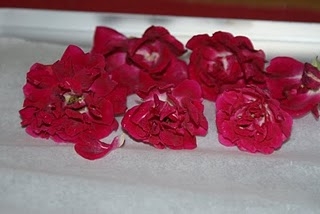 Set yourself up with a tray or plate lined with greaseproof paper, one egg white in a bowl, a shallow container of caster sugar, a teaspoon, a fork and a paintbrush.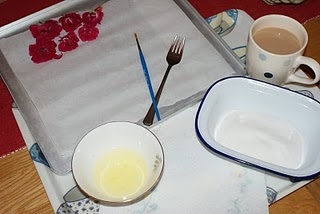 Cup of tea is optional but will keep you going whilst you work.
Separate the petals that you want to crystallise removing any bruised ones and dispatching the odd bug that might be hiding in them.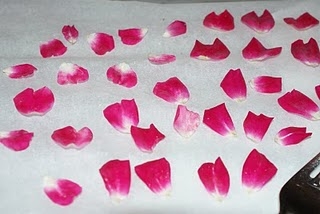 With the fork whisk up the egg white a little bit so it loosens and is a little bit frothy.
With the paintbrush paint each side of the petal with a little egg white.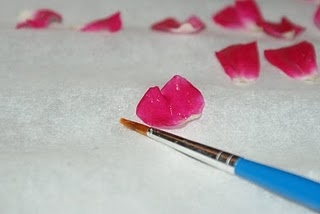 You can then pick them up with the paintbrush and drop them into the container of caster sugar.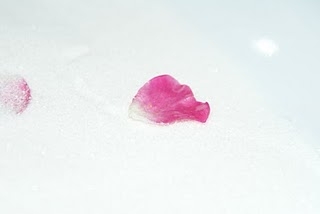 Using the spoon cover the petal with sugar and wizzle the sugar container back and forth. (Yes, wizzle is a technical term). Just make sure that the petal is coated with sugar. Leave it in there for a bit and paint and coat some more.
When you have five or six in the sugar fish them out with the spoon tapping off the excess sugar and place them carefully onto the greaseproof paper.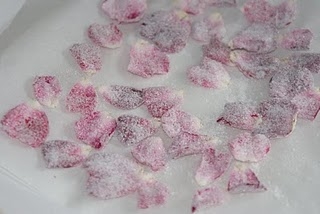 Continue until you have coated and sugared all the petals, now leave overnight to dry out.
The following day they will have crisped up a bit and are ready to use, and looking lovely I might add!
Now to make the fairy cakes. Prepare the bun tins adding a paper case to each.
Preheat the oven to 180c/160c Fan/350F/Gas Mark 4.
Cut the pieces of Turkish delight into halves and add one piece to each paper case.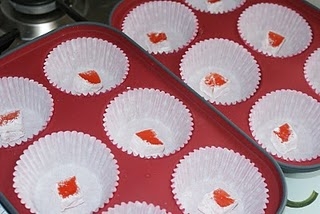 Cream together the butter and sugar.
Add in the eggs, flour and rosewater and mix well.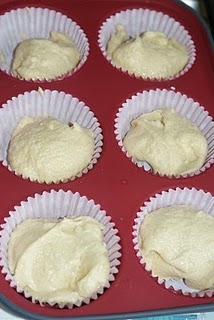 Bake in the oven for 18-20 minutes.
Remove from the oven and cool on a wire rack.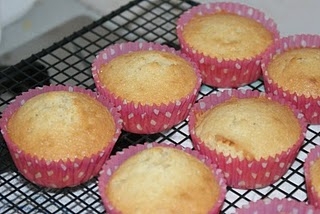 To make the icing sift the icing sugar, add 4tbsp rose water and mix well. Add a little pink food colouring if desired. Place a spoonful of icing on each fairy cake when cooled and spread evenly using the back of the spoon. Select a couple of your beautiful petals and place in the centre of the icing. Leave to set.