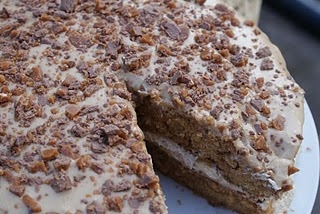 Caramel Cake with Crushed Daim Bars
Ingredients:
Cake
300g butter
180g dark muscovado sugar
1/2 397g tin Carnation Caramel (Dulche de Leche)
6 eggs
320g self raising flour
Filling
125g butter
250g Icing Sugar
1 spoonful of Caramel (from the tin)
Icing
250g Icing Sugar
1 spoonful of Caramel (from the tin)
10ml water
2 Daim Bars
I thought I would use this cake to test out my new tin. A Tefal AirBake cake tin. We used some of the range on The Great British Bake Off and because I'm a swine for buying tins, in all shapes and sizes I wanted to put it to the test at home.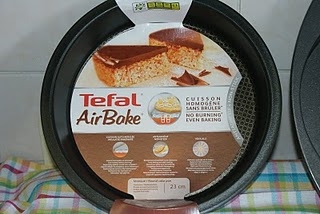 You will need two 8″ or 9″ tins. I am comparing the Tefal AirBake to a trusty tin I already have.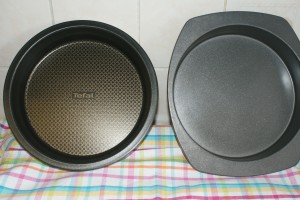 The AirBake range comes in all sorts of sizes and they do handy loaf tins, tart pans and baking sheets too. Their main selling point is that they ensure no burning and even baking….well lets see, back to the cake in hand.
Grease both the cake tins (I have to admit here to cheating with my old tin, I lined the base too knowing that I wouldn't get the cake out of the tin whole if I didn't! The Tefal wasn't going to get the same failsafe treatment!
Cream together the butter and dark sugar.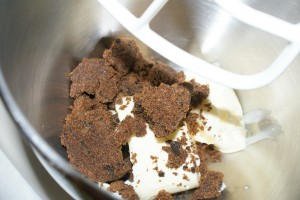 When thoroughly creamed add in half the tin of caramel and mix again.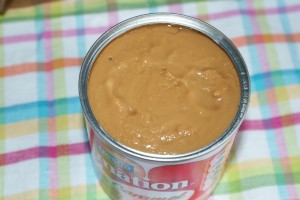 Beat the eggs together and mix slowly into the butter/sugar/caramel mix adding a spoonful of flour at any sign of curdling.
Add in the remaining flour and mix together. Split the cake mix between the two tins.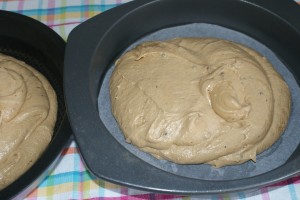 Level the top of the mixture and bake in the oven for 25-30 minutes at 160c Fan/180c/Gas Mark 4 until golden brown and cooked through.
Remove from the oven and allow to cool for a couple of minutes. Now is the moment of truth – the AirBake cake has baked beautifully but will it release from the tin?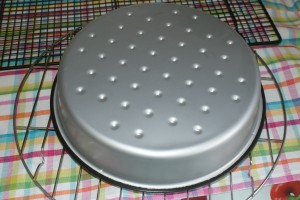 First signs are promising….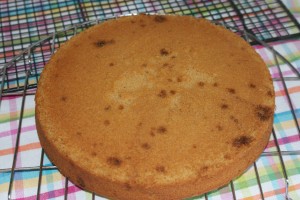 Ta Da! Straight out of the tin and only a tiny tiny bit came away with the tin. Okay then, I'm impressed!
Allow both cakes to cool completely and then make the filling. Mix together the softened butter and icing sugar, when fully combined add in one spoonful of caramel from the remainder in the tin. Spread all over the top of one of the cakes. On top of the butter cream add another couple of spoonfuls of caramel and spread it out nicely.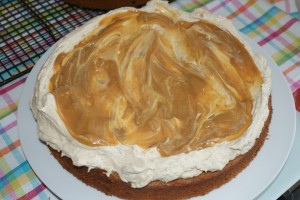 Place the second cake on top and now mix up the icing – icing sugar, water and the remaining caramel in the tin.
Place the two Daim bars in a sandwich bag and bash them up until they're lots of little bits.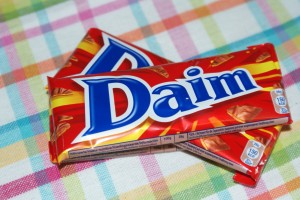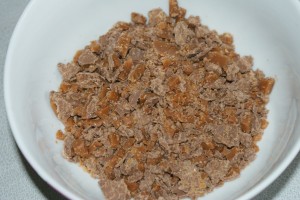 Pour the icing over the top of the cake and top with the crushed Daim pieces.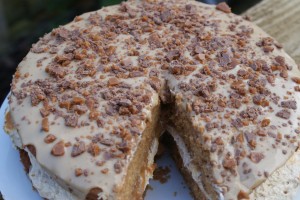 Caramel Cake with Crushed Daim Bars